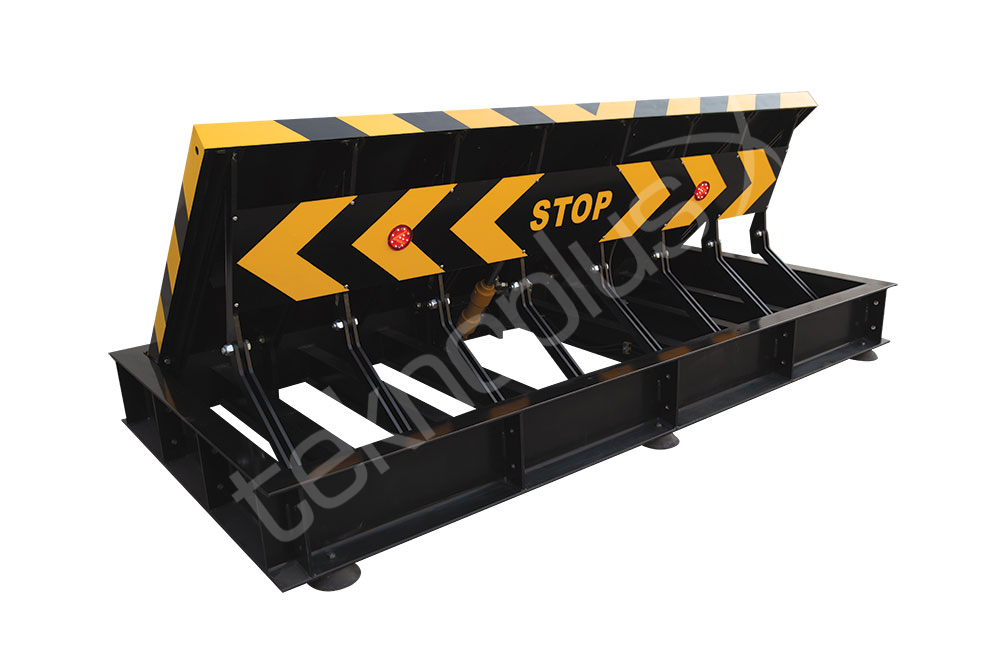 TPR-SL Shallow Mount Road Blockers are unique and
reliable Hostile Vehicle Mitigation (HVM) products that provide high level security protection against hostile vehicle attacks.
Like conventional road blockers, TPR-SL3090 Shallow Mount Road Blockers
provide safe access control, in case of a vehicle attack, they prevent the vehicle from moving by damaging the wheels, front and lower parts of the heavy vehicle and provide effective protection and security by disabling it.
The system is capable of completing lifting and lowering movement in 3 - 4 seconds without any limitation of usage.
For the installation of Shallow Mount Road Blockers, there is no need to dig the ground deeper than 400 mm. Therefore, it is a suitable solution in situations where it is not possible to dig deep into the ground compared to conventional standard road blockers.
MAIN CHARACTERISTICS
Robust construction of TPR-SL series Shallow Mount Road Blockers are designed for heavy duty operations and made out of heavy gauge materials,

It has been proven that it has high impact resistance that meets the K8 level of DOS SD-STD-02.01 standards with the computerized finite element tests.

Easy to install and maintain by its shallow mount design which provides more advantages compared to conventional road blockers,

Installation in places with construction constraints,

Position sensing and speed control with proximity limit sensors which immediately stop the motor operation at limit points. Slowing down at closing and opening limit points which provides a silent and low noise operation

The drive unit is hydraulic but in case of a power failure or in an emergency situation, the system can be controlled manually with the help of manual hand pump,

Can be integrated with other access control devices easily.
STANDARD HPU:

Hydraulic unit is specially designed for road blockers and bollards. The capacity of oil tank is 40 lt. There are manometer, manual hand pump, oil level and temperature indicator, direction control valve, tank cover, pressure setting, 5,5 kW electric motor in hydraulic system.
DC OPERATION (DCO):
In case of power outage, 6 to 10 complete cycles without electricity can be performed by using the optional DCO. Switching between AC and DC power is provided seamlessly, thanks to high-end battery charger circuit. 24 VDC, 2.2 kW DC power pack, 2 x 12 VDC 50A Dry Type Non-maintenance battery. The capacity of oil tank is 100 lt.
EMERGENCY FAST OPERATION (EFO):

In case of emergency, optional Emergency Fast Operation feature raises the road blocker to fully up position in less than 1 second, thanks to high-pressured accumulator. This feature is activated by the panic button on remote control keyboard or any external signal such as TP-HS Series Rising Arm Barrier's crash detection. The capacity of oil tank is 100 lt.